Managing Director James Williams: 'Necessity is the mother of invention'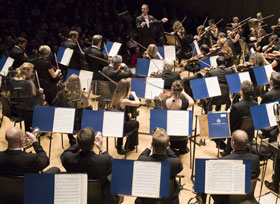 'Unprecedented'; 'unknown'; 'uncertainty' – all words that have dominated the press and media over the past few months and reflect the new 'normal' in which we are now living our lives. Schools and offices have been closed, high streets deserted and our freedoms curtailed in order to control the spread of COVID-19, a virus that has caused loss and pain to many families across the UK and the world.
The music world has been playing its part to help reduce the spread of COVID-19 by closing concert halls doors in mid-March to prevent public gatherings. Creativity and innovation, both characteristics that define the UK's world-renowned culture sector, flourished as many of the UK's performing arts organisations including the Royal Philharmonic Orchestra transformed overnight their live artistic programmes onto digital platforms, enabling audiences to maintain contact with their favourite cultural organisation, more often than not for free. Closer to home, it's been wonderful to learn more about the individual lives and personalities of the RPO's musicians on our digital platform #RPOatHome and to see individuals' creativity flourishing, which by definition is harder to achieve when performing together as an 80-piece orchestra.