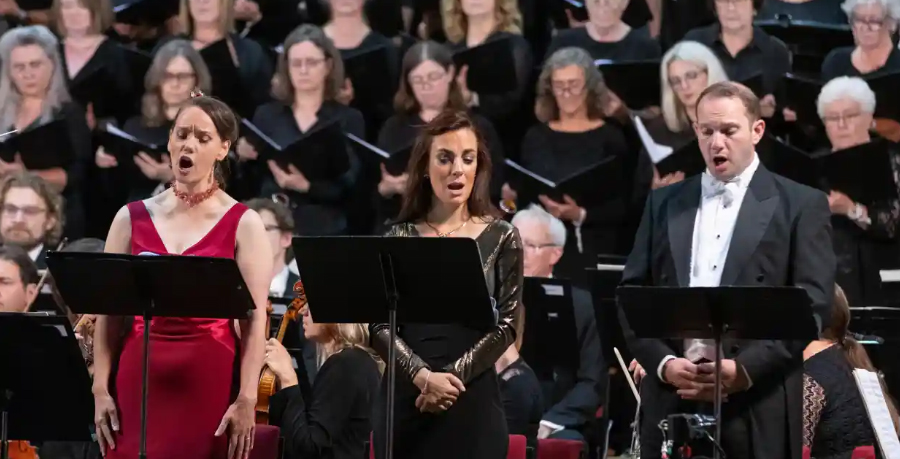 ★★★★ review from Gloucester Cathedral
Francis Pott's compelling 1999 work was voted the audience's favourite festival premiere and so won a second performance at this year's event. Its emphasis on war and human destruction feels even more urgent
---
Wednesday 26 July 2023, Rian Evans, The Guardian
Francis Pott's oratorio A Song on the End of World takes its title from the Nobel Prize in literature laureate Czesław Miłosz's poem written after the Nazi invasion of his native Poland. The oratorio, a Three Choirs commission, was first performed in 1999. Its reappearance at this year's festival comes in the wake of it being voted, during 2020's lockdown, the festival audience's favourite premiere. Twenty-four years on, neither its subject matter nor its musical style feels any less contemporary or relevant.
In his seven-movement structure, Pott sets texts including Walt Whitman, George Mackay Brown, Randall Jarrell and Charles Causley, as well as psalms and anonymous 15th-century words which, while reflecting on the humanity of Christ, also suggest Christ as Everyman in a world where every continuing atrocity is a crucifixion repeated. The work's emphasis on the pity of war makes it feel like a requiem, against the rosy hue of the Miłosz poem and its insistence that "No one believes it is happening now".
References to the Earth burning –
Georg Heym
's "Forests fall to the consuming flames", and Mervyn Peake's "
fires dance like madmen on the splinters
" felt newly chilling – the picture of man's war on man now also invoking man's heedless war on the planet. In Gloucester's acoustic, such outbursts could not fail to resonate, yet the music's quiet passages, where dissonant harmonies emerged most clearly, were also eloquent, with the two extremes of fierce and hushed tellingly juxtaposed in lines first by Thomas Traherne and then Dylan Thomas.
At 70 minutes, the oratorio is long, but it's testimony to Pott's command of his choral and orchestral resources, together with the three soloists, soprano April Frederick, mezzo Clare Presland and baritone Marcus Farnsworth, that it didn't drag.
In the first half, conductor Adrian Partington, Gloucester's artistic director, had chosen Holst's Ode to Death – as serene as it is forceful – as a fitting parallel. That also sat well with the emotional surge and swell of Arnold Bax's Tintagel, wonderfully conveyed by the Royal Philharmonic Orchestra. By comparison, Randall Svane's opening Quantum Flight, given its UK premiere here, had fizzed along, an antidote to the sobriety of what was to come.