The 2021-2022 season was a milestone for the Royal Philharmonic Orchestra. Our first full season of concerts in London and across the UK since the pandemic, not only did we celebrate 75 years of music-making since our inaugural concert in 1946, we also welcomed Vasily Petrenko as our new Music Director.
In this season of Great British Music in Southbank Centre's Royal Festival Hall and the Royal Albert Hall we celebrated the themes of freedom, hope and adventure with music from composers who have defined the landscape of British music. As Vasily Petrenko remarked on his fondness for the repertoire, "the heritage of British classical music is so rich that it's difficult to find the best of the best."
Read on for photos, reactions and reviews from our eight concerts in the series.
---
The opening concert to the series was our 75th Anniversary Gala at the Royal Albert Hall on Tuesday 21 September.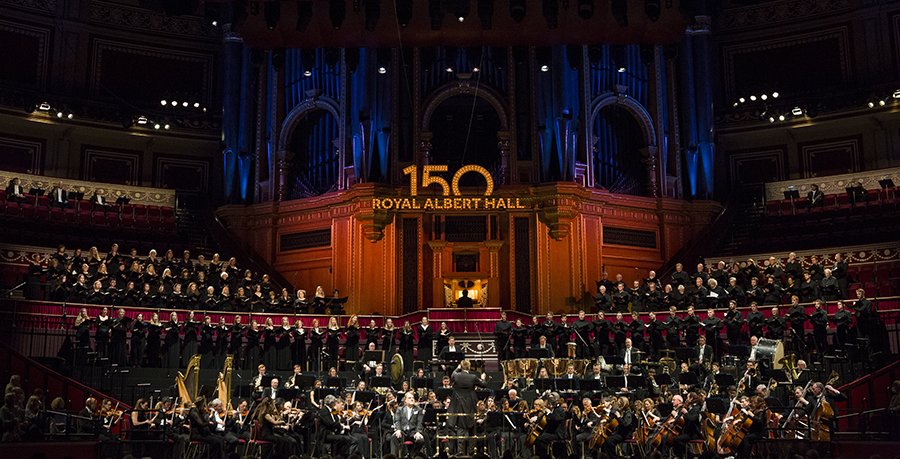 (c) Ben Wright
Taking place just under 75 years and a week after the RPO's very first concert in Croydon's Davis Theatre on 15 September 1946, the concert paid tribute to the Orchestra's inception and founder, Sir Thomas Beecham, with one of the pieces featured in that programme by a composer who Beecham championed throughout his life in Delius' Over the Hills and Far Away.
Joining Petrenko and the RPO on stage in the first half was soloist Sheku Kanneh-Mason, who performed Elgar's Cello Concerto.
[Sheku] has made this work very much his own, growing and maturing with it concert by concert. He offered an interpretation that was powerfully true to Elgar's old-world nobility of spirit: eloquently phrased, with rich, oak-strong tone and touchingly direct expression. Petrenko wielded a tight orchestral ship, keeping everything brisk and contained, which had the benefit of making the most intense moments stand out all the more.

The Arts Desk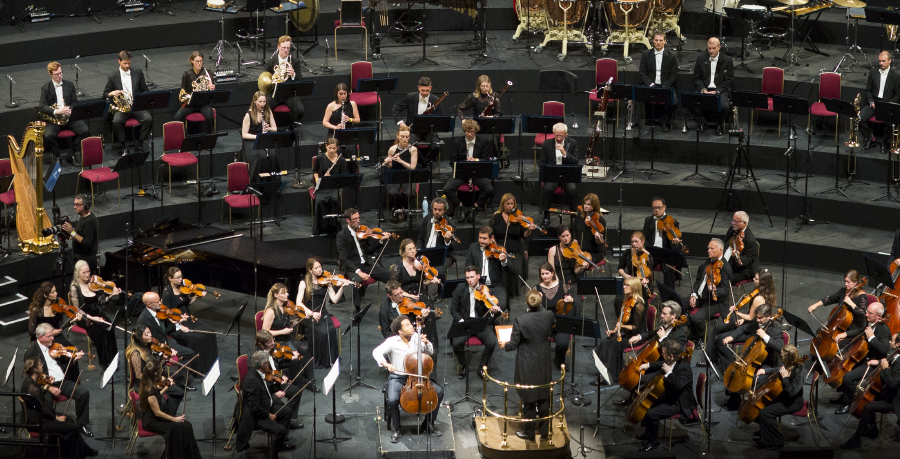 (c) Ben Wright
The concert's centrepiece was Walton's Belshezzar's Feast, a cantata of monumental proprtions that brought down the roof of the Royal Albert Hall and featured the Philharmonia Chorus with special guest soloist Sir Bryn Terfel.
"The multi-hued score glittered with bombast and swagger under the conductor Vasily Petrenko. Heavy extra brass pealed from above."
The Times ★★★★
See more photos from the night.
---
The next concert in our series of Great British Music was in Southbank Centre's Royal Festival Hall on Wednesday 3 November. Opening with Walton's jubilant 1956 Johannesburg Festival Overture, the following two pieces were contemporary to each other but from wholly different worlds: Elgar's Violin Concerto and Stravinsky's Petrushka.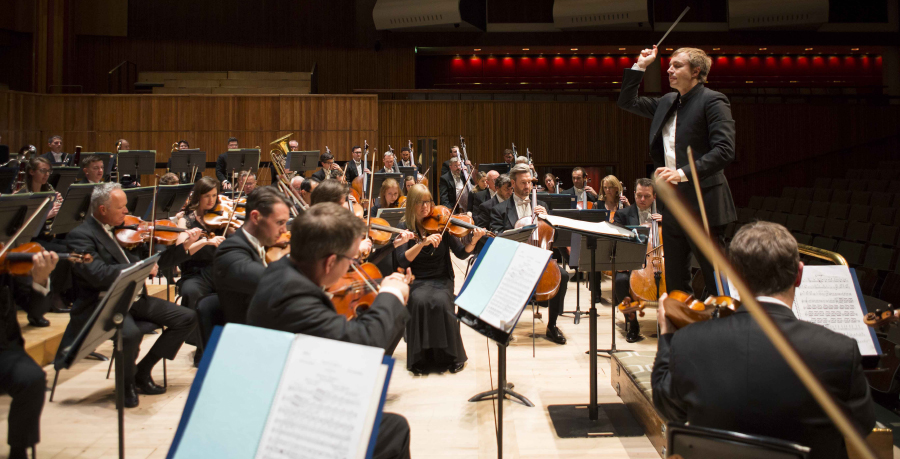 (c) Ben Wright
Chinese violinist Ning Feng was praised for his performance of Elgar's passionate concerto, written in 1911:
"Ning was ideal, navigating the alternation of demanding semiquaver figuration and tenderly lyrical moments with a sure sense of Elgar's argument. The orchestra and conductor do not exactly have an easy time either, but produced a stirring contribution, and in the long con passione passage of the first movement, Petrenko and his players let rip, in a thrilling realisation of Elgar's torrential invention."
Bachtrack ★★★★
In Petrenko's affinity for both British and Russian music, Stravinsky's retelling of a puppets' tale of love and jealousy rounded out an evening of romantic throes and outbursts.
Great music last night back at the Royal Festival Hall @southbankcentre.

Treated to Walton's Jo'burg overture, Stravinsky's Petrushka, & Elgar's Violin Concerto led by the brilliant Ning Feng.

Thank you & bravo @rpoonline & Maestro Vasily Petrenko! Just what the doc ordered.❤️‍🩹 pic.twitter.com/cHI6wkUgOl

— Honey de G ⚓️ (@girlnextshore) November 4, 2021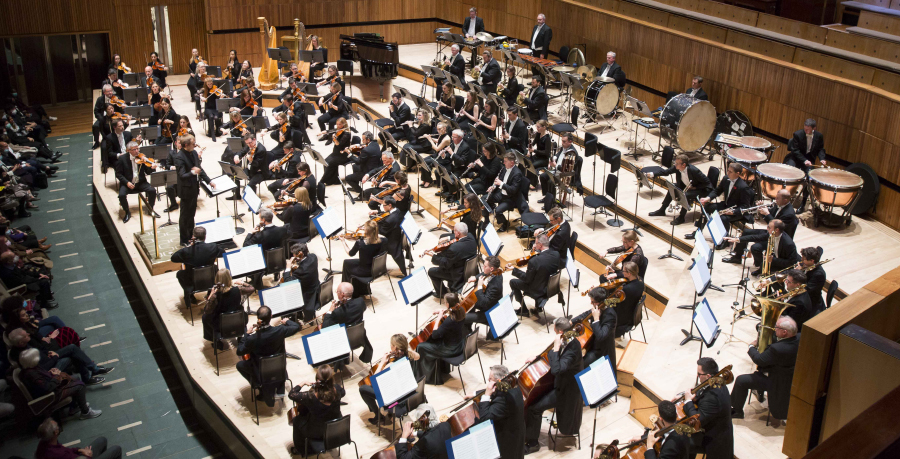 (c) Ben Wright
Get to know the story of Petrushka.
See more photos from the night.
---
We kicked off our 2022 London concerts on Thursday 3 February at Southbank Centre, fresh off the back of our January tour to the USA. Having just performed Holst's The Planets in New York's Carnegie Hall under Petrenko, the British composer's tour de force was brought to the Royal Festival Hall with great acclaim.
"A brutally effective Mars and a rather diabolical Uranus had the intensity of offcuts from Shostakovich symphonies, and jolly Jupiter was bracing and vital. Yet there were subtle touches too — the hothouse bloom of Venus, a strange wildness to Saturn — and the playing, especially from the strings, was impressively tight."
The Times ★★★★
Preceeding Mao Fujita's performance of Tchaikovsky's Piano Concerto No.1 in the first half, we had a premiere by young British composer Dani Howard. Ellipsis was commissioned to celebrate 75 years of the Roya Philharmonic Orchestra, and was described by Dani as...
"a time-lapse of London over the last 75 years, with the orchestra at the heart of this... I hoped to create an image of this constantly evolving entity, over time, with a bold and positive look to the future, with a 'to be continued…' sort of ending."
Hard to describe the thrill of last night.. An absolute dream come true. @rpoonline performed the world premiere of "Ellipsis" at @southbankcentre and it was just magical- couldn't have hoped for a better performance and audience 🎶 #HappyComposer pic.twitter.com/Tlfzo0BNNW

— Dani Howard (@DaniHoward6) February 4, 2022
Read our interview with composer Dani Howard.
---
With our return to Southbank Centre on Wednesday 23 March was Walton's Symphony No.1, alongside Britten's Young Person's Guide to the Orchestra and Shostakovich's Cello Concerto No.1, performed by Pablo Ferrández.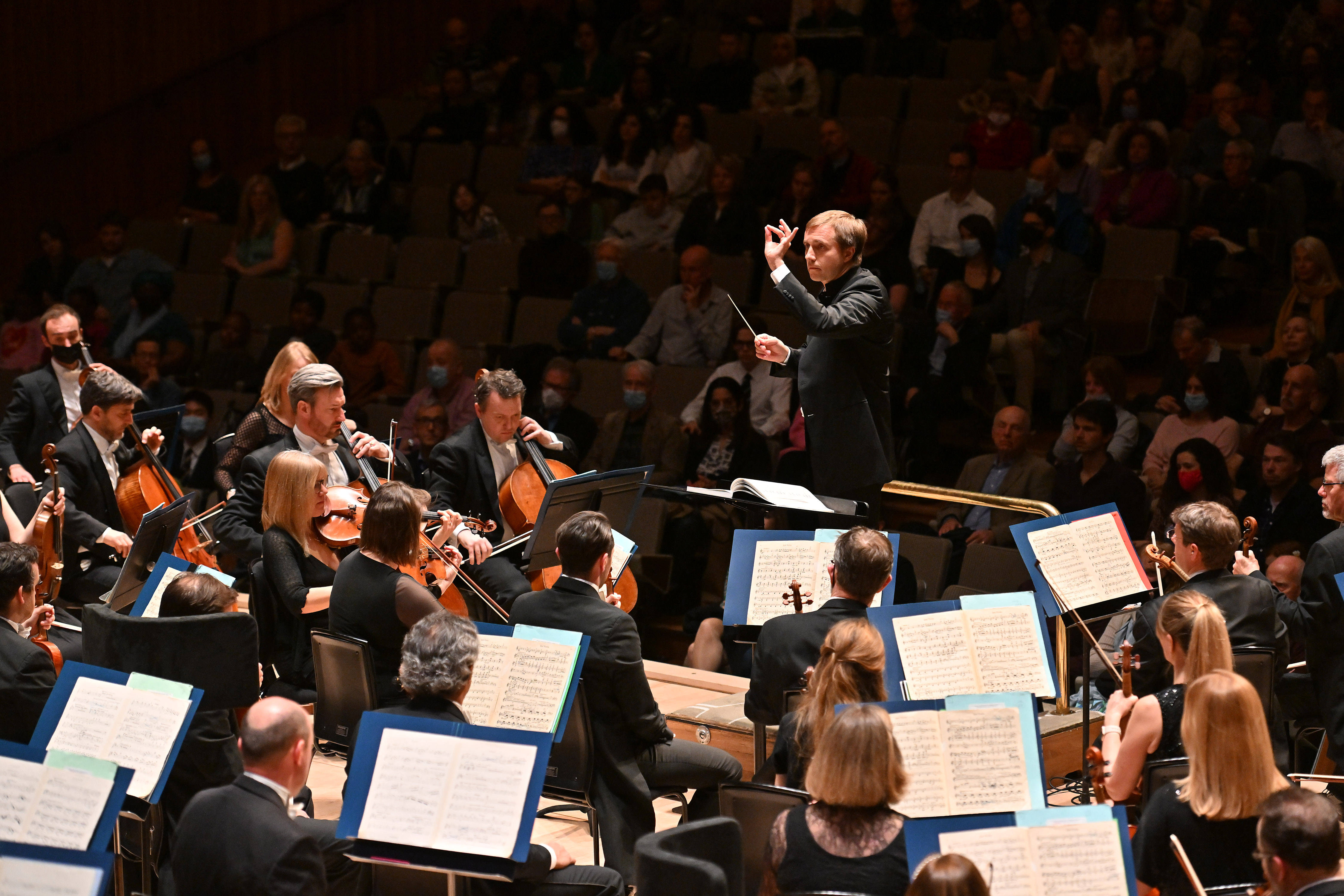 (c) Mark Allan
Continuing the theme of British and Russian composers, the kinship between Britten and Shostakovich as outcast composers from when they met in 1960 in London for the premiere of the Russian's Cello Concerto No.1 is well documented. In the years before the war, Britten was most known for his Young Person's Guide to the Orchestra, a BBC commission designed to teach young people about each of the instruments that make up the orchestra.
Premiered in 1934, Walton's Symphony No.1 was initially presented without a fourth movement which was only completed in 1935. This new finale divided critics at the time, including Britten, who disapproved of the addition.
(c) Mark Allan
"Petrenko's left hand was hypnotic to watch, shaping phrases, highly expressive and fluid. The players responded by giving it their all, thrillingly, elementally."
The Arts Desk ★★★★
See more photos and reactions from the night.
---
In the first of two concerts of British Choral Masterworks, the Royal Philharmonic Orchestra brought what Elgar described as 'the best of me" to the Royal Albert Hall:The Dream of Gerontius.
Soloists Ed Lyon, Kai Rüütel and Derek Welton joined the Orchestra and Philharmonia Chorus in following the journey of the soul of the eponymous Gerontius through the afterlife, reflecting on his earthly life and wrestling with his own sins while encountering both angels and demons.
"Such rousing singing, playing, and conducting... led to one of those "we don't know if we should clap here but some of us really want to" from some audience members... Not everyone in the large audience knew this work well perhaps, but Petrenko and colleagues surely made converts."
Bachtrack ★★★★
---
Later that month was Vaughan Williams' A London Symphony in the Royal Festival Hall. Written and premiered in the shadow of the First World War, Petrenko described it as "an incredibly powerful piece of music [that] reflects all the rhythm, all the hustle and bustle of the London of the time."
Alongside the London Symphony was Beethoven's Piano Concerto No.4, 'Emperor', with soloist Boris Giltburg, who has developed a close musical partnership with Petrenko over the years on stage and in the studio.
What a natural affinity Vasily Petrenko has for British music. Heart and soul. It's somehow in his DNA. Such a stirring account of Vaughan Williams' London Symphony both rumbustious and serenely atmospheric. The RPO @rpoonline sound reborn

— Edward Seckerson (@seckerson) April 26, 2022
(c) Mark Allan
---
Our second concert of our British Choral Masterworks was Britten's War Requiem. Ahead of the concert, Petrenko spoke on the significance of this piece in light of the ongoing war in Ukraine, saying: "We would love to dedicate this piece to the victims of the war between Russia and Ukraine. We would love to dedicate it to the memories of all fallen soldiers, to all fallen ciizens."
Britten's 1962 work was premiered in the newly consecrated Coventry Cathedral after the original building was destroyed in World War Two bombing raids, and incorporated poetry by Wilfrid Owen amongst the text of the traditional Requiem Mass. At the Royal Albert Hall, reuniting with the Philharmonia Chorus and welcoming the Temple Church Choir, the Royal Philharmonic Orchestra and Vasily Petrenko performed with soloists from Russia, Britain and Germany: soprano Lyubov Petrova, tenor Andrew Staples and baritone Dietrich Henschel.
(c) Mark Allan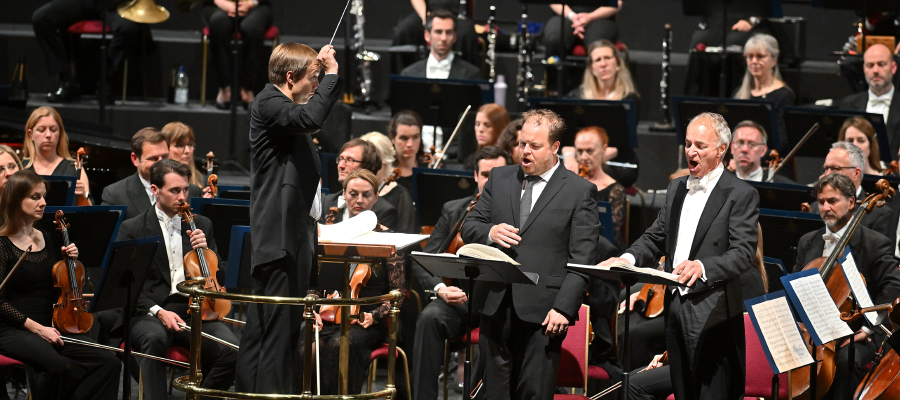 (c) Mark Allan
For the first time in the piece's history, this performance featured British Sign Language interpretation, which was provided by Dr Paul Whittaker.
(c) Mark Allan
Excellent performance of Britten's War Requiem this evening. @rpoonline under the baton of Vasily Petrenko @RoyalAlbertHall Wasn't familiar with it before. Moving. Orchestra, chamber orchestra, choirs and soloists all first class. pic.twitter.com/jjgbH8xGTh

— Nigel Shepherd (@topfamilylawyer) May 26, 2022
@RoyalAlbertHall with Rach 😍for Britten's War Requiem performed by the outstandingly magnificent @rpoonline pic.twitter.com/gZ8mFdFpuc

— Caroline Aylott 💙 (@Lifeguard50) May 26, 2022

---
Wrapping up the season at Southbank Centre was Elgar's Sea Pictures with mezzo-soprano Kathryn Rudge and Mahler's Symphony No.6. A cycle of songs by five different poets, including Elgar's wife, Caroline Alice, the work was premiered in 1899, and later conducted by Mahler in the final year of his life in 1911. Mahler's Sixth is infamous for its hammer blows of fate, premonitions of the tragedies that would befall the composer after the symphony was completed in 1904.
Huge thanks @rpoonline Vasily Petrenko @southbankcentre Honour to perform Elgar's 'Sea Pictures' and to join the audience afterwards for an out of this world Mahler 6 🙌💐 pic.twitter.com/CFIiDHrhyr

— Kathryn Rudge (@kathrynrudge) May 30, 2022
Really wonderful performance of #seapictures from @kathrynrudge @rpoonline @southbankcentre tonight! Fabulous way to finish the weekend pic.twitter.com/wjdFOctTmY

— Helen Hogh (@helendhogh) May 29, 2022

"...a shattering performance of volcanic power and leaving one in no doubt as to the strength of his relationship with the RPO. "
Bachtrack ★★★★
---
Thank you to all our audiences and supporters for making our Great British Music series possible.
Join us for our 2022-23 season at Southbank Centre and the Royal Albert Hall for Journeys of Discovery, a journey through the facets of the human character through music, featuring Mahler's Second, Third and Eight Symphonies, Berlioz' Symphonie Fantastique and Strauss' Also Sprach Zarathustra.

---
Have you been left wanting more? Discover our More Music playlists for each of our concerts in the Great British Music series, featuring music that inspired the concert repertoire, music by composers contemporary to the era and lesser-know works that deserve a chance in the spotlight.