Composer Dani Howard is a shining light of contemporary orchestral music in the UK. Her music has been performed at home and abroad by the London Symphony Orchestra, BBC Symphony Orchestra and members of the Berlin Philharmonic Orchestra, and her recent Trombone Concerto, premiered by the Royal Liverpool Philharmonic Orchestra, was received with great acclaim as "an instant classic" (The Times).
Her latest piece, Ellipsis, was commissioned by the Royal Philharmonic Orchestra to celebrate 75 years of our history of music-making, with the piece charting the story of the RPO from the foundations laid out by Sir Thomas Beecham to the present day. Read on below to discover more about her influences for the piece, rehearsing the commission live for the first time with the RPO and working with our Music Director Vasily Petrenko.
Ellipsis will be performed at Southbank Centre's Royal Festival Hall early next month in the opening a concert that forms part of our Great British Music series, and is followed by Rachmaninov's Rhapsody on a Theme of Paganini and Holst's The Planets.
Find out more about the concert on Thursday 3 February:
---
What were the creative inspirations behind your new piece?
"In this new piece, I wanted to recognise the orchestra's wonderful 75 year history, as it was a commission specifically for this anniversary. I realised that it is impossible to explicitly explore a 75 year history in a 10 minute piece, and so the first thing that came to mind was a time-lapse of London over the last 75 years, with the orchestra at the heart of this. I love the idea of two speeds occurring simultaneously - the idea of an image remaining static, whilst other layers move rapidly on top this. You hear this concept a lot throughout the piece, and I hoped to create an image of this constantly evolving entity, over time, with a bold and positive look to the future, with a "to be continued…" sort of ending."
---
When starting to compose the piece, what was the first instrument you associated with the music?
"When I saw the instrument-list of which I could choose from, my eyes immediately lit up when I saw two harps and celeste. I have never written for celeste before, or had the opportunity to have two harps in the orchestra, so I immediately got very excited about the textures I could try and create with these instruments, in combination with the vibraphone. You will hear these instruments featured heavily in the piece."
---
What were you immediate reactions to first hearing the piece performed in rehearsal?
"To be completely honest, the first rehearsal is a composer's worst nightmare. I think John Adams said it best, when he said:
"I think that life as a composer comes down to surviving the first rehearsal. The first rehearsal is when you have to surrender all sharp objects as you're going into the hall. You know.. razor blades, anything that you could make or do serious damage to yourself. Because that's the moment when the piece moves from pure abstraction, to this kind of horrible, messy, sloppy, indecisive reality. With an orchestra that's seeing the piece for the first time, and the sound is coming at you.. Everything you hear is a shock. It can be a wrenching, hysterically horrible experience. There is a tendency to want to run on stage and scream at somebody, but I have to be very polite and write it down in a notebook."
This is unfortunately true 100% of the time (no matter the ensemble!), however, after the initial 'run-through' occurs, and you realise you haven't made any drastic errors, you are able to relax more and more and start to enjoy it. By the end of the rehearsal I was absolutely thrilled with how it sounded. The orchestra is just phenomenal, every single one of the players, and it was such a dream to hear them all play my new piece."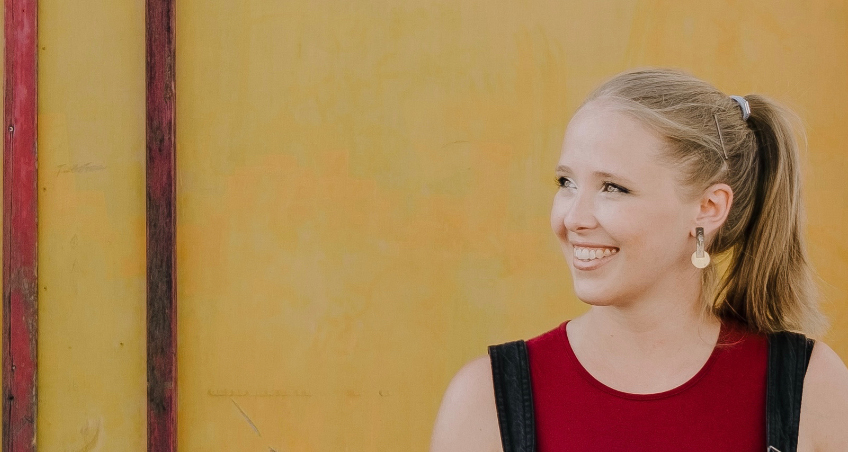 The Hong Kong-born composer lets her dad, Mike, a non-musician, name all of her works since she begin composing.
---
Vasily Petrenko has conducted music you've composed before – has a conductor's interpretation of one of your pieces ever made you think about it in a different way?
"Absolutely, conductors always come to the piece with their own ideas, and I really love when they have clearly looked at the piece in a lot of depth, and have their own interpretation of particular moments. This is always the case with Vasily Petrenko, and I very much respect his musicianship and experience, that it is always wonderful to hear his ideas about certain moments, and of course a wonderful opportunity to learn with every new piece that I write, and every conductor I work with."
---
Are there any other young composers in the orchestral scene you would list as an inspiration?
"It depends what you consider "young", but three composers that come to mind immediately are Mason Bates, Nico Muhly and Viet Cuong - all American composers who I admire very much."
---
From your perspective, what does the future of orchestral music in the UK look like? How has it changed from when you first started composing?
"I am always so inspired by how the orchestras in this country are constantly evolving, and especially what we have seen over the last year. The way they have now increased their digital presence, and online concert capabilities during the pandemic, I feel is a very positive move that will continue into the future. I hope this means that classical music can reach wider audiences, and bring these new audiences into the concert hall. Because of this, I believe the industry as a whole is more adapt to new technologies, and I hope that this translates into seeing more works performed by living composers, including multi-disciplinary works with visuals/electronics/dance etc. to be at the core of performances, as I know that there is so much more to be done in this area within an orchestral setting, and so much potential here that could engage and inspire audiences."