From Paris to New York Part Two
Thursday 18 February 2021, 4.00pm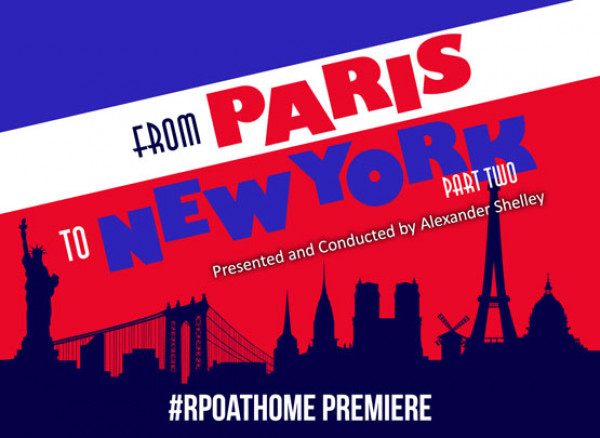 GERSHWIN Rhapsody in Blue
DEBUSSY Prélude à l'après-midi d'un faune
RAVEL Le tombeau de Couperin
Alexander Shelley Conductor
Peter Jablonski Piano
Royal Philharmonic Orchestra
---
Preceded by a live Q&A on YouTube from 3.30 pm with RPO musicians: Sali-Wyn Ryan (Second Violin), Jonathan Hallett (Viola) and Sonia Sielaff (Clarinet) - join us to put your questions about the music and performance to the players.
There is no denying the beauty and grandeur of Paris and New York. Not only are they wonderful destinations but the cities have played extremely significant roles in the nurturing of classical music, influencing composers and artists alike, and indeed inspired this magnificent performance from the Royal Philharmonic Orchestra which you can now enjoy in the comfort of your own home.
Principal Associate Conductor Alexander Shelley returns for Part Two of this special performance and three exquisite works from either side of the Atlantic. From its distinctive opening clarinet glissando to thrilling rapid passages from the piano and grand brassy themes, Gershwin's Rhapsody in Blue never fails to dazzle audiences. We explore Debussy's unique musical language in his Prélude à l'après-midi d'un faune before closing with Ravel's delicate and subtle Le tombeau de Couperin.
Recorded on 26 April 2016 at Cadogan Hall, London.
FREE TO VIEW Thursday 18 February, 4pm BST (available for 5 days) – YouTube Premieres. Visit our channel to set a reminder later this week!
Click here for details of Part One which premieres on 11 February.
---