The Royal Philharmonic Orchestra was delighted to work with The Football Association on the UEFA Women's EURO 2022 Cultural Programme, which engaged fans and local residents in a range of musical opportunities and public events celebrating the history, ethos and future of women's football.
Delivered across ten host cities and featuring 7 female workshop leader/composers, ten local anthems, two new full orchestral pieces and an expert panel series, the programme reached more than 100,000 people from February to July 2022.
Learn more about the reach of the project in the overviews below, and see the various strands involved, including resources and learning materials for each host city anthem, enabling communities to continue to engage with the programme.
RPO Women's EURO 2022 Cultural Programme At A Glance:
View the brochure:
View the brochure as a PDF here.
---
Key Statistics
4,402 participants
102,159+ audience members
10 host city anthems
1 tournament-wide celebration anthem
1 football concerto
10 panel talks (featuring 34 different speakers)
7 female workshop leader/composers
400+ hours of delivery
---
Beautiful Game Anthem

Beautiful Game is an anthem written by British composer Shirley J. Thompson OBE to celebrate the UEFA Women's EURO 2022 tournament. You can find sheet music, lyrics and the recording made by the full RPO with community singers here.
---
Host City Anthems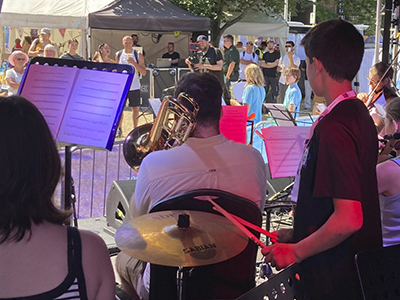 Participatory workshops with community groups, schools, football teams/fans and the general public in each tournament host city led to the creation of 10 bespoke anthems celebrating women's football and the local areas. Listen to each anthem and download resources to learn and perform them here.
---
Momentum: Concerto for Football and Orchestra

To celebrate the occasion, composer Shirley J. Thompson OBE also created the first ever concerto for football and orchestra. Discover more and get involved here.
---
Expert Panel Series: Sounds and Stadiums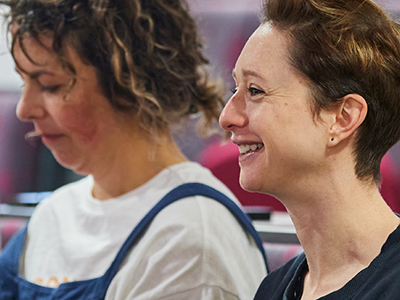 During the tournament period, the RPO and Sound Voice curated a series of panels across all ten host cities exploring the ways in which the worlds of music and sport intersect. Watch the live recordings from each event here.
---
Find out abut the full UEFA Women's Euro 2022 Arts & Heritage Programme
---
About this project
This project is funded using public funding from Arts Council England, with contributions from The Football Association and tournament Host Cities. The programme has been designed with Artistic Director Hannah Conway, with workshops and events delivered by musicians and leaders from the Royal Philharmonic Orchestra and host cities.