Alexander Shelley conducts Sibelius
Friday 28 October 2016, 7.30pm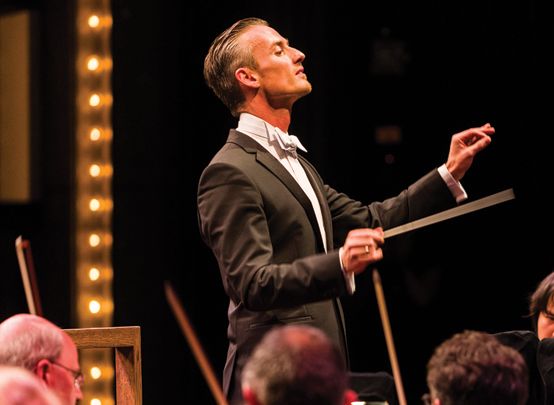 ROSSINI William Tell Overture
MENDELSSOHN Violin Concerto in E minor
SIBELIUS Symphony No.2
Alexander Shelley Conductor
Carolin Widmann Violin
Royal Philharmonic Orchestra
---
Bursting brass at a galloping pace proclaims the opening of Rossini's William Tell Overture and the beginning of the Royal Philharmonic Orchestra's autumn concert, led by the Orchestra's dynamic Principal Associate Conductor Alexander Shelley.
Joining the Orchestra will be the 'fabulously assured and poetic soloist' (The Guardian), Carolin Widmann. The audience will be able to hear her perform Mendelssohn's Violin Concerto in E minor, one of the foremost violin concertos of the Romantic Era, which is full of warmth and vitality.
One of Sibelius' most engaging and beautiful compositions, his Symphony No.2 evokes the unmistakably Nordic soundworld that is associated with the composer's signature style. Moving from an anguished slow movement to furious passion, the piece climaxes in an exhilarating heroic finale that will leave you breathless.
---
Ticket information
Tickets: £40, £36, £30
Students/ Under 16s: £12.50. Group Bookings 10+ save 10%, 20+ save 20%
Subscription discounts available
Booking fees may apply
Cambridge Corn Exchange
2 Wheeler Street
Cambridge
CB2 3QB
01223 357851
www.cornex.co.uk