Beethoven: The Revolutionary - Orchestral Concert III
Saturday 27 June 2020, 7.30pm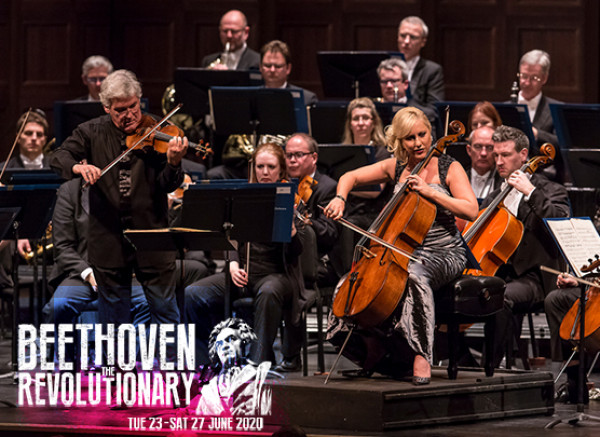 BEETHOVEN Egmont Overture
BEETHOVEN Triple Concerto in C Major*
BEETHOVEN Symphony No.7
Pinchas Zukerman Conductor/Violin
Hans Graf Conductor*
Amanda Forsyth Cello
Angela Cheng Piano
John Suchet Presenter
Royal Philharmonic Orchestra
---
In the finale of Pinchas Zukerman's celebration of Beethoven's legacy, the Zukerman Trio and the Royal Philharmonic Orchestra perform a programme of spectacular symphonic power. In the first half is Beethoven's Triple Concerto, a truly unique adaptation of the genre. The first composer to complete such a concerto for violin, piano and cello, Beethoven sets the stage to allow the soloists to converse in dramatic, animated passages that are embellished by a powerful symphonic accompaniment from the orchestra.
It's hard to overstate the impact that Beethoven's Symphony No.7 has had on the composer's legacy; the immense energy the Symphony carries something truly memorable. Wagner's description of the irresistible rhythms in the Vivace and Presto sections as the 'apotheosis of the dance' seem to be no exaggeration when the orchestra launches into a breath-taking pace. The second movement, Allegretto, remains one of the most famous movements of any of Beethoven's symphonies; opening with a dotted rhythm in the strings that unfolds into a crescendo of immense power as the movement progresses to its awe-inspiring climax.
In partnership with

---
Ticket information
Tickets: £15 / £25 / £32.50 / £40 (booking fees apply).
Groups of just 6+ save up to 35%
Day Pass: Quote DAYPASS over the phone or online via Cadogan Hall's box office and enjoy the chamber concert or piano recital for just £5, when purchasing your evening orchestral concert.
Festival Package: £99. Save over 35% when booking for all nine concerts in the Festival* (available to purchase in person and over the phone from Cadogan Hall's Box Office).
*This special ticket price is subject to availability with seats available in the £32.50 pricing area.