Great Traditions with Ustad Wajahat Khan
Wednesday 28 April 2021, 7.30pm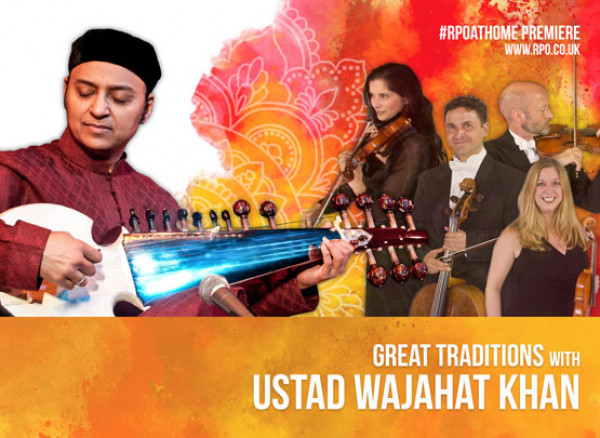 MOZART Adagio and Fugue in C minor
BARBER Adagio for Strings
WAJAHAT KHAN Solo Set
WAJAHAT KHAN Sarod Concerto No.3
David Murphy Conductor
Wajahat Khan Sarod
Royal Philharmonic Orchestra
---
Explore a unique fusion of Western and Indian traditions of music with the Royal Philharmonic Orchestra and legendary maestro of the sarod, Ustad Wajahat Khan.
Mozart's monumental Adagio and Fugue in C minor opens the programme moving from contemplation in the Adagio to a powerful determination in the Fugue, which is mirrored by the strong emotional release and empathy of Samuel Barber's Adagio for Strings.
Ustad Wajahat Khan gives an intimate performance of one of the most popular raags in Indian classical music, the beautifully intricate Raag Pilu. Wajahat Khan, who comes from an unbroken oral tradition and a line of musicians spanning over 400 years, is accompanied by Sanju Sahai on tabla and Richard Williams on the drone instrument, the tanpura.
Wajahat Khan's Sarod Concerto No.3 brings both traditions seamlessly together to conclude with a celebration of musical unity. Based on Raag Desh, the Concerto is made up of three movements entitled Prayers of Love, Monsoon Memories and Celebrations, and blends the deep tones of the stringed instrument with the versatility and vivacity of a chamber orchestra.
---
Ticket information
Free to watch on our YouTube channel for up to two weeks.