Music ConneXXions 2019 - Live telematic performance
Monday 13 May 2019, 2.30pm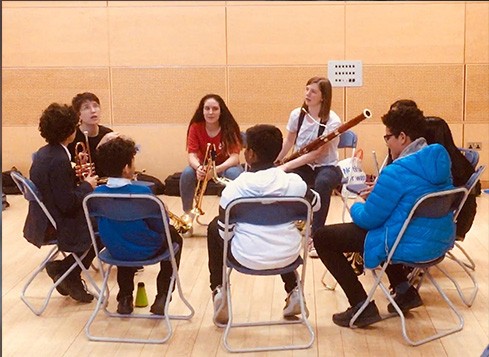 RPO Resound
Canada's National Arts Centre Orchestra
Royal College Music (RCM)
Present Music ConneXXions 2019 - Live telematic performance
Featuring members of the Brent Youth Concert Band & String Chamber Orchestra (UK) & Orkidstra (Canada) & a performance by RCM student Esther Abrami.
Presented by Alexander Shelley & Alison Balsom
---
Following their first international collaboration in 2014 based on the centenary of WW1, the RPO, NACO and RCM have again teamed up to deliver a truly international education project based around the themes of NACO's current world tour – Crossing Distances.
Musicians from the Brent Youth Concert Band and Youth String Chamber Orchestra have been working with workshop leaders Detta Danford and Natasha Zielazinski, students from the Royal College of Music, and members of the RPO to devise a new 12-minute work entitled 'Sea Crossings', inspired by Debussy's 'La Mer'. This will be performed live on May 13th and streamed to Canada, where the Orkidstra youth orchestra will perform their own composition led by composer Margaret Tobolowska , before the two orchestras will create and perform live a collaboratively improvised telematic piece in response to each other's compositions.
---
Ticket information
Free admission -  Please contact the Royal College of Music box office Tel:+44 (0)20 7591 4314 to book tickets. 
Royal College of Music
Prince Consort Road
London
SW7 2BS
United Kingdom