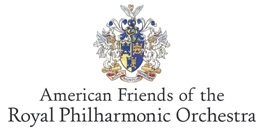 For more than sixty years, the Royal Philharmonic Orchestra (RPO) has enjoyed a warm relationship with American audiences, building a loyal and enthusiastic following during its regular coast to coast tours.
The American Friends of the Royal Philharmonic Orchestra (AFRPO) was originally established in 1983 to further the work of the Royal Philharmonic Orchestra in the USA. Funds raised through the AFRPO have provided essential support for the Orchestra's USA tours, educational activity at home and abroad, and for some of the young American artists who regularly appear with the RPO.


Marking 70 years of excellence
2016 sees the Orchestra mark a major milestone in its history; its 70th anniversary celebrations commenced in January with a sixteen-date tour of the USA, featuring esteemed violinist and conductor Pinchas Zukerman. To coincide with this major event, the RPO has been reinvigorating the American Friends (a 501(c)(3) registered organisation) and is keen to attract new patrons who will enjoy being associated with one of the world's great cultural institutions and who recognise the importance of developing and enhancing a cross cultural relationship between the USA and Great Britain.
As a 501(c)(3) registered organisation, all donations to the AFRPO are tax deductible for USA taxpayers to the full extent allowed by law. The support the Orchestra receives from its American Friends is essential in its mission to bring world-class orchestral music to the widest possible audience.
For details of opportunities associated with membership of the American Friends, download the AFRPO Tiers of Membership form.
American Friends of the Royal Philharmonic Orchestra
Board Members:
Barry Bloom (President)
Huw Davies (Vice President and Secretary)
James Mead (Treasurer)
Les Bider
Richard Chapman
Michele Park
Robin Vince
Charles Dutoit Circle:
Barry and Lilia Bloom
James and Elaine Mead
Les and Lynn Bider
J. Ira and Nicki Harris Family Foundation
Robin and Liselotte Vince

Pinchas Zukerman Circle:
Jonathan and Kristyn Bloom
Sara K. Bloom
Michael van Buskirk
Françoise Giraud-Favier
The Irving Harris Foundation
Xavier Guerrand-Hermès
David Hochberg
Dame Alice Kandell
Benefactor:
Robert Yaffa