Whilst we are sadly still unable to perform live on stage for you, the musicians of the Royal Philharmonic Orchestra are committed to keeping music-making alive in a great variety of entertaining ways. With solo and ensemble videos, online premieres, podcasts, card games, quizzes and more, why not enjoy just some of the highlights of #RPOatHome below?
Plus, follow us on our social media channels (YouTube, Facebook, Instagram and Twitter) for more!
LATEST VIDEO: RPO First Violins play Somewhere Over the Rainbow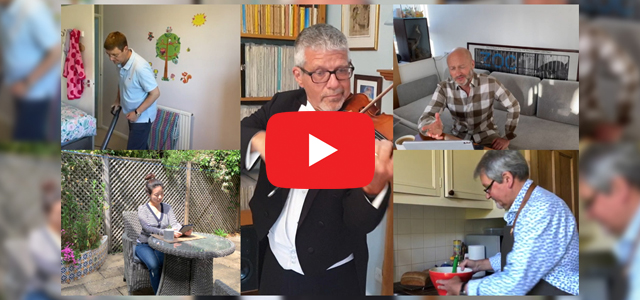 Watch the RPO's First Violin section play a delightful arrangement of Somewhere Over the Rainbow from their homes in tribute to the NHS after its 72nd Anniversary earlier this month.
Watch this via the video player on this page or watch this via the RPO at Home YouTube playlist.
Check #RPOatHome for more videos on our Facebook, Instagram and Twitter pages, too.
COMING SOON: The Young Person's Guide to the Orchestra
Alexander Shelley, Principal Associate Conductor of the RPO, narrates and conducts a very special version of Benjamin Britten's celebrated introduction to the orchestra. Featuring a brand new narration and with the full Royal Philharmonic Orchestra coming together digitally from their own homes, we are excited to present to you our new take on this lively fugue and variations based on a memorable theme by Henry Purcell.
Over the coming weeks, you can enjoy a series of videos from different sections of the Orchestra, each telling you a bit more about their roles in this piece. Click here to visit our dedicated page to view these videos and follow our social media channels (YouTube, Facebook, Instagram and Twitter) for regular updates.
These videos will culminate with a grand and glorious finale performance of the full work, premiered on Facebook at 3pm BST on Thursday 13 August and YouTube at 4pm BST on Friday 14 August.
STROKESTRA® at Home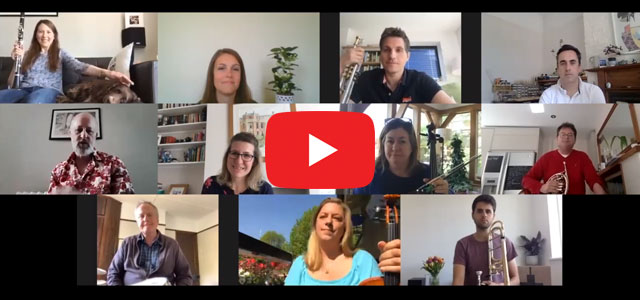 Our Community and Education team have put together a special series of videos featuring fun, music-based activities for you to have a go at from the comfort of your own homes. Find out more about the STROKESTRA® at Home series and watch all the videos here.
Click here to learn more about our award-winning STROKESTRA® programme.
Listen to RPO Extra Podcasts and RPO recordings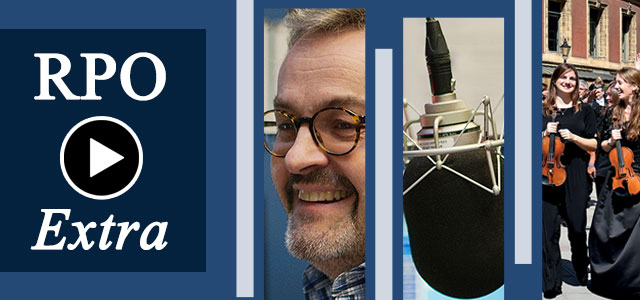 RPO Extra is a podcast series performed and curated by the Royal Philharmonic Orchestra and BBC Northampton's John Griff offering insights into the people behind the music. Tune into the latest and all previous episodes of our podcast series RPO Extra.
In Episode 9, host John Griff is joined by Principal Associate Conductor Alexander Shelley to discuss a new virtual performance of Britten's The Young Person's Guide to the Orchestra and how an orchestra can use the medium to reach out, perform and educate when concert halls are empty.
There are also a wide variety of RPO recordings available to listen to via Spotify and iTunes. To listen to these recordings and the podcast, just search Royal Philharmonic Orchestra under Artist or Podcasts.
Specially curated #RPOatHome playlists you might enjoy include Contemplative Classics and RPO and the Violin.
Play Orchestral Scores and NEW Composer Scores
Alleviate the boredom of social distancing and get to know the RPO with the Orchestra's own take on a popular card game.
Orchestral Scores introduces you to twenty of our musicians. Who gets to play all the singable melodies and great solos? Who has the hardest job transporting their instrument around? And who gets to sit closest to the conductor's podium? Both Set One and Set Two are available in full – click on the links below to download and play with your friends and family!
Download Orchestral Scores: Set One Download Orchestral Scores: Set Two
New Edition – Composer Scores. Why not take the chance to battle it out between a selection of our audience's favourite composers in this special RPO card game. Which composer's music featured in the greatest number of RPO concerts? Who lived the longest? And who scored the most big hits in the Classic FM Hall of Fame 2020? Collect and compare our unique score cards and compare them against each other in five key categories to see who tops the bill.
Go to our Facebook, Instagram and Twitter, where we will be sharing new cards each week. Like, share (with #RPOatHome) and collect our unique cards. Comment on our rankings and compare cards against each other on five key categories to see which players top the bill. Download them all to your device to play with friends and family!
Download Composer Scores: First Five Cards Download Composer Scores: Set One
Remember: If your card has a higher score for that category, you win your opponent's card. The player with the most cards wins.
#RPOatHome Quiz

Test your orchestral knowledge and pit your wits against your computer or smartphone with our #RPOatHome online quizzes. They're fun, quick and easy to play.
QUIZ 9 – National Insect Week Play Now
QUIZ 8 – Copland and Shostakovich Play Now
QUIZ 7 – Flowers and Music Play Now
QUIZ 6 – VE Day Play Now
QUIZ 5 – Animals and Music Play Now
QUIZ 4 – Orchestral Clips Play Now
QUIZ 3 – Film Music Play Now
QUIZ 2 – Strauss' Ein Heldenleben Play Now
QUIZ 1 – RPO Play Now
RPO Phone Buddies

Keep in touch with RPO musicians from the comfort and safety of your own home, by signing up to the RPO Phone Buddies scheme! Email This email address is being protected from spambots. You need JavaScript enabled to view it. for more information.
Keep coming back here to see what's coming next from #RPOatHome. Stay safe and well.