Second Violin Peter Graham recounts the second week of the RPO's tour to the USA as the players took up residency in Orlando's Dr Phillips Center for the Performing Arts as part of the celebrations surrounding the opening of the new Steinmetz Hall.
"After our fleeting visit to the San Francisco Bay area, sadly without having the time to visit the great city itself, and only a brief glimpse of the Golden Gate Bridge from the coach, we embarked on the next phase of our tour...
Orlando, Florida. The sunshine state. And an unprecedented 12 days in the same hotel performing as resident orchestra at the newly built Steinmetz Hall. This in itself was a huge adjustment from our typical USA touring schedule, usually consisting of a lot of long coach journeys, internal flights and early mornings (with seldom enough sleep the night before). So when we were presented with our Orlando schedule, it took a moment to sink in…. 6 concerts in 12 days?! And everything from Tchaikovsky ballets to a Texan country singer, Lyle Lovett, via some Duke Ellington and the one and only Jennifer Hudson. This contrast in styles and genres was eclectic even for the RPO, and that's saying something. We like to mix it up a bit but this was off the scale!
Our first concert was quite the spectacle. On paper it promised a lot; a classic selection from Tchaikovsky's three big ballets, Swan Lake, The Nutcracker and Sleeping Beauty; premier dancers from the Royal Ballet, no less, and the might of experience conductor Barry Wordsworth brings to any ballet collaboration. The dancers were quite simply exquisite, seemingly defying gravity with their leaps and spins (that's the limit of my ballet terminology I'm afraid) and the Orchestra certainly stepped up to the mark, none more so than our leader Duncan Riddell, seemingly beguiling the audience with his beautiful rendition of the white and black swans' pas de deux, supported by Richard Harwood's sweeping cello counter-melody and Susan Blair's effortless timing on the harp. The dancers stole the show though (despite a few select Tchaikovsky orchestral gems woven throughout the programme), and rightly so.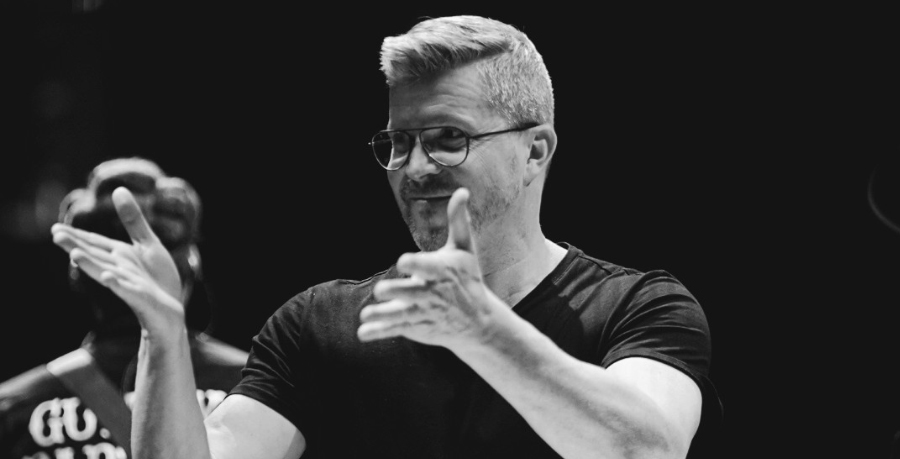 Conductor Edwin Outwater (c) Richard Ion
One concert down and then things got really interesting! For the rest of our Orlando projects we would be working exclusively with the conductor Edwin Outwater, a clearly versatile maestro adept at switching between the multitude of styles we would need and certainly up for the challenge! Our next project was accompanying the 'soulful' singer Leon Bridges, not a name I was familiar with but he clearly came with quite a following and an amazing backing band, and singers, to boot. That was fun!
The following day we had a short rehearsal for our next concert. Now, I must confess, I'd heard of Jennifer Hudson, singer, actress, a judge on The Voice etc. etc, but wasn't too familiar with her work.
I have since rectified this for she is quite simply, incredible! She sauntered onto the stage midway through a song, picked up the mic and just belted out this extraordinary note. I wasn't alone in nearly dropping my instrument and simultaneously falling off my chair, what a sound! We then stopped to correct something and she turned to Edwin and, almost sheepishly asked, 'Was that ok?'
Yes Jennifer, I think it will do just fine.
The gig was electric, she really came into her own on stage, engaging with her adoring fans while emulating the great Whitney Houston and Aretha Franklin in her own, more-than-convincing way.
This concert was big, bold and 100% American in the best possible way, she is quite simply, a star! Well, 'what could possibly follow that?' I hear you ask. An excellent question, to which the only logical answer is…Beethoven's ninth symphony!
After the somewhat 'ad lib' (aka what on Earth will she do next?) style of the Jennifer Hudson concert, it was back to business for Beethoven. In the first half Natasha Paremski, as ever, effortlessly negotiated Rachmaninov's Rhapsody on a theme of Paganini. Beethoven's great choral symphony is always an event, and this performance with Orlando's Bach Festival Choir and four great soloists was no exception.
I should mention at this point that, being in residence and only a short walk from the Hall in Orlando, we had quite a lot of down time outside rehearsals and concerts (but don't tell anyone back home). What better way to spend some free time in Florida with a mild climate in January than to hire a Mustang convertible and drive to the beach! Ok it may not be everyone's cup of tea, especially with all the Theme park attractions nearby in Orlando, but if I can get to the sea easily, I will. And I had the sunburn to prove it! The curse of the convertible!
Our last two (work) projects were, performing with a lovely country/bluegrass singer by the name Lyle Lovett, and a fascinating collaboration with the jazz orchestra at Dr Philips Performng Arts Centre. Lyle Lovett was so easy to work with and clearly so comfortable and witty on stage, altogether a very enjoyable experience.
Rehearsing for Black, Brown and Beige (c) Richard Ion
Our final concert, with members from the Jazz orchestra at Dr. Philips Performing Arts centre and a select few from New York's very own 'Jazz at the Lincoln Centre', was fascinating and complex in equal measures. The project was a piece written by the fabulous Duke Ellington in 1943, Black, Brown and Beige. It was originally written for big band and then adapted to include a symphony orchestra, a popular and versatile fusion of styles, but not without its difficulties. The rhythmic cohesion of a big band is quite hard to match with a full scale symphony orchestra but thankfully the extra rehearsals paid off in the end.
Personally I loved it, just being able at times to sit back and listen to the big band in full swing (pun intended) was pure joy, a fitting end to our incredible musical journey in Orlando, Florida. We didn't cover many miles physically but musically it felt like we'd driven the length of Route 66, and back!
The next stop was snowy Virginia, and the time to get the thermals out!"