The London-born and GRAMMY-nominated Anna Clyne has made a name for herself as one of today's foremost contemporary composers. Often experimenting and collaborating with visual artists, choreographers and film-makers, she has been commissioned by the likes of Southbank Centre, Los Angeles Philharmonic, BBC Radio 3 and Carnegie Hall.
The Royal Philharmonic Orchestra will perform her piece This Midnight Hour, written and premiered in 2015, at Cadogan Hall on Wednesday 9 February. Principal Associate Conductor Alexander Shelley conducts the work alongside Stravinsky's The Firebird Suite, Ravel's Mother Goose Suite and Prokofiev's Violin Concerto No.2 with soloist Fumiaki Miura - RPO Artist-in-Residence for 2022.
Find out more about the concert at Cadogan Hall on Wednesday 9 February:
---
This Midnight Hour was inspired by two different poems, one by Juan Ramón Jiménez and one by Charles Baudelaire. How did your first interpretation of these poems grow into the completed piece of orchestral music?
"Jiménez's poem is very short and concise (translated by Robert Bly):
Music –

a naked woman

running mad through the pure night
This immediately struck me as a strong image and one that I chose to interpret with outbursts of frenetic energy – for example, dividing the strings into sub-groups that play fortissimo staggered descending cascade figures from left to right in stereo effect. There is also a lot of evocative sensory imagery in Baudelaire's Harmonie du Soir, the first stanza of which reads as follows (translated by William Aggeler):
The season is at hand when swaying on its stem
Every flower exhales perfume like a censer;
Sounds and perfumes turn in the evening air;
Melancholy waltz and languid vertigo!
I riffed on the idea of the melancholic waltz about half way into This Midnight Hour - I split the viola section in two and have one half playing at written pitch and the other half playing 1/4 tone sharp to emulate the sonority of an accordion playing a Parisian-esque waltz."
---
Are there any other pieces of orchestral music that can also conjure similarly evocative scenes in your imagination?
"One of my favorite pieces of orchestral music is Stravinsky's The Rite of Spring – I love his connection to the physicality of sound – you can feel that it was intended to be danced to and this work is a great inspiration for me."
---
What drew you to use folk-style melodies in This Midnight Hour? Did they come from anywhere specific?
"I have always loved folk music – in fact two of my newly adopted pandemic pastimes are Irish fiddle and old-time banjo – both of which I have been taking online lessons with friends during the lockdown. The melodies in This Midnight Hour are melodies that I conjured in my imagination whilst writing the piece."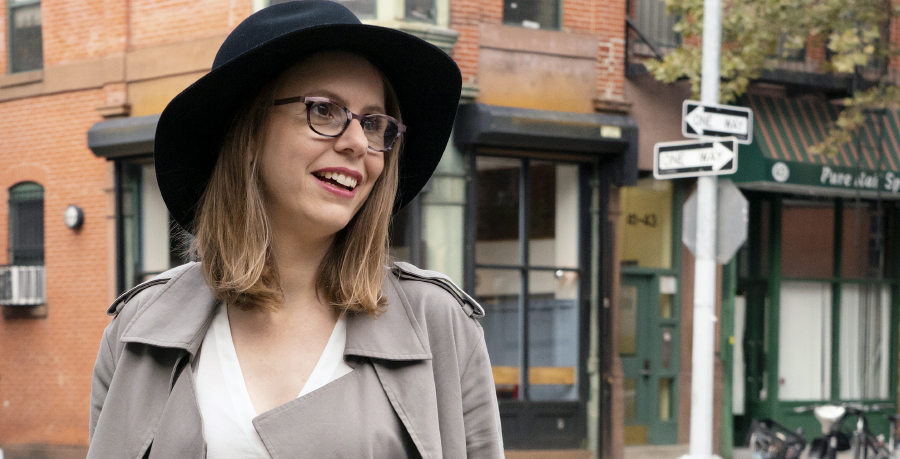 Anna has been described as a "composer of uncommon gifts and unusual methods" by The New York Times
---
What most excites you when you first start to compose a piece for an orchestra?
"One of the most exciting aspects of writing for the orchestra is that the possibilities are limitless – with all these colors at your disposal you can really create whatever you imagine and through combining the colors of the different instruments, you can create new sonorities – new instruments. There's also something exciting (and sometimes a little daunting) about the blank canvas that you sit with at the very beginning."
Are there any other composers in the orchestral scene working today who you particularly admire?
"I've been really enjoying listening to the orchestral music of Icelandic composer Anna Thorvaldsdottir and hearing the musical qualities that she finds to inspire her music in the textures and sounds of the natural world – both beautiful and sometimes very intense and overpowering in works such as Metacosmos and Aerality. Similarly, I love the music that nature inspires for composer John Luther Adams in such works as Become Ocean and Become Desert."
---
What are your plans for the future? Have you got any upcoming projects?
"I am currently working on a clarinet concerto for Martin Fröst and a new work for eight singers and orchestra. I am also in the very early stages of developing a new opera that explores the wildly explosive imagination of the American poet, Emily Dickinson."