On Thursday 15 September 2016, the Royal Philharmonic Orchestra (RPO) celebrated its 70th anniversary; 70 years since its first concert at the Davis Theatre, Croydon, under the baton of its Founder and first Music Director, Sir Thomas Beecham. Our first programme with Beecham featured Mozart's Symphony No.36, 'Linz', Delius' Over the Hills and Far Away, Tchaikovsky's Romeo and Juliet Fantasy Overture and a suite from Bizet's Carmen. Having begun with Rossini's William Tell Overture, it's fitting that in our 70th Anniversary Gala Concert, the Orchestra opened with the very same work, this time under the baton of our now Artistic Director and Principal Conductor, Charles Dutoit.
Proud to be celebrating 70 years at the forefront of music-making, the RPO embraces and thrives under a modern and versatile approach, which over the past decade has seen the Orchestra extend its reach to fourteen UK residencies; performing more concerts to a wider breadth of audiences than any other orchestra in the country, with its extensive international touring schedule and the expansion of RPO Resound, the Orchestra's award-winning community and education programme, which each year brings music-making into the lives of thousands of people who otherwise would not have the opportunity to experience orchestral music.
"For the past 70 years, the RPO has led the vanguard for reimagining the role and remit of a symphony orchestra. These values of creativity and innovation delivered to the highest artistic standards will continue to sit at the heart of the RPO's future work both in the UK and internationally, ensuring that the Royal Philharmonic Orchestra shall continue to inspire, challenge and delight a diverse range of audiences and artists for many years to come."

James Williams, Managing Director of the Royal Philharmonic Orchestra
#RPO70 and the RPO Wall
In the Orchestra's 70th Year, we have been taking a look back at some of our top moments on Twitter, Instagram and Facebook, celebrating numerous performances, achievements, occasions, new appointments and more throughout our first six decades of music-making. We would love for our supporters to join in the celebrations and share their RPO memories using #RPO70 – no matter how short or long.
If you have been able to attend one of our recent concerts at Cadogan Hall, Southbank Centre's Royal Festival Hall or one of our regional venues, you will have also seen our RPO Wall, detailing some of the key dates that shaped the Orchestra's history and created the ensemble as we know it today. Take a look at just some of our history: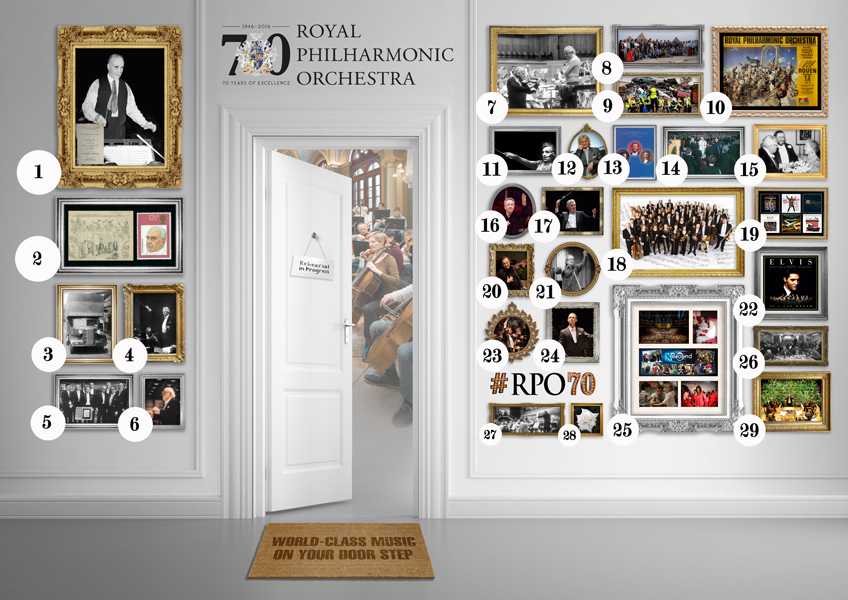 What's on the RPO Wall?
Sir Thomas Beecham (Founder of the RPO) and a copy of the first concert programme (1946)
Cartoon from New York Times commemorating a 45-city tour of the USA (the RPO was the first British orchestra to extensively tour the US after WWII in 1950) / Stamp featuring Sir Thomas Beecham as part of the Music British Conductor Series (1980)
The first RPO truck (1940s)
Rudolf Kempe, Principal Conductor (1961–1962) and Artistic Director (1963–1975)
Board of Directors responsible for the ACE grant and maintaining the Royal status, 1966 (L–R: John Lowdell, James Brown, Evan Watkins, Elgar Howarth, Edmund Chesterman, Derek Wickers, Charles Katin and Harry Legge)
Sir Charles Groves, Associate Conductor (1967–1992)
Violinist Yehudi Menuhin and Conductor Laureate Antal Doráti (1975-1979)
RPO tour to Egypt outside the Great Pyramids of Giza (Spring 2007)
'Gig in the Dump' as part of Channel 4's 'Dumped' Series (2007)
Rouen concert tour poster (June 1984)
Vladimir Ashkenazy, Principal Conductor (1987–1994)
Grzegorz Nowak, Principal Associate Conductor (2008–2015) and Permanent Associate Conductor since 2015
Concert Programme featuring Pavarotti, Ashkenazy and Itzhak Perlman at Dade County Auditorium, Florida (9 November 1992)
Papal Concert to Commemorate the Shoah at the Vatican (Pope John Paul II) in December 1994
Pavarotti with The Queen Mother after a Gala Concert with the RPO (13 April 1982)
Yuri Temirkanov, Principal and Guest Conductor (1977–1998)
Pinchas Zukerman, Principal Guest Conductor since 2009
Current Royal Philharmonic Orchestra at 70 (2016)
A selection of the Orchestra's hit records (the RPO is the most recorded of all the orchestras in the world)
Charles Dutoit, Artistic Director and Principal Conductor since 2009
Andre Previn, Principal Conductor (1985–1988)
In 2015 If I Can Dream debuted a Number 1 in the UK charts and has sold over 1million copies
Daniele Gatti, Principal Conductor (1996–2009) and Conductor Laureate since 2009
Alexander Shelley, Principal Associate Conductor since 2015
RPO Resound, the RPO's groundbreaking and award-winning community and education programme formed in 1993
Concert at lunch hall in Ford Cars, Dagenham with conductor Stanley Black
Concert aboard the Queen Elizabeth II (Canard Line) in Summer 1990
Royal Philharmonic Rose (pure white hybrid tea)
Concert for plants to stimulate growth at Cadogan Hall (24 March 2011)


70th Anniversary Gala Concert
To mark the Orchestra's platinum season, the Royal Philharmonic Orchestra hosted its 70th Anniversary Gala Concert at the Royal Albert Hall on Monday 19 September, featuring three all-time prestigious artists: Martha Argerich, Charles Dutoit (Artistic Director and Principal Conductor) and Pinchas Zukerman (Principal Guest Conductor). The thrilling concert included Schumann's Piano Concerto in A minor with Martha Argerich and Bruch's Violin Concerto No.1 with Pinchas Zukerman (Violin/Director), and concluded with Stravinsky's epic ballet score The Firebird Suite (1919), conducted by Charles Dutoit.
The Anniversary Concert also celebrated a long and successful partnership between the RPO and the Royal Albert Hall, and the RPO were delighted to receive the Hall's 2016 annual free charity let from the Hall to recognise this long relationship.
Read the full press release...
Our 70th Anniversary Gala Concert was broadcast on BBC Radio 3.
"Dutoit shaped a Firebird Suite that was both delicately beguiling and packed a punch, proving in the process why this orchestra still matters."

The Telegraph

"Argerich never stopped teasing the music, phrasing with a litheness and curiosity that quickly cast a spell over the audience"

The Times

"Pinchas Zukerman gave a refreshing account of the G-minor [Bruch Violin Concerto No.1]"

Classical Source