Sali-Wyn Ryan talks to Andy Sippings on the eve of his retirement, after almost four decades with the Orchestra. 
It's very easy to overuse the word 'legend' to describe somebody these days, or indeed to announce something as being 'the end of an era'. Both terms are fully applicable right now, as I chat to our wonderful RPO violist, Andy Sippings on the eve of his retirement. Andy deserves a firm place in the RPO Hall of Fame, not only for his contribution as a musician within the viola section but also for several years of extraordinary participation at governance level. Not only did Andy serve as Chair of the orchestra for fifteen years; he also acted as Managing Director and was instrumental in steering the RPO through some incredibly tough and financially challenging times.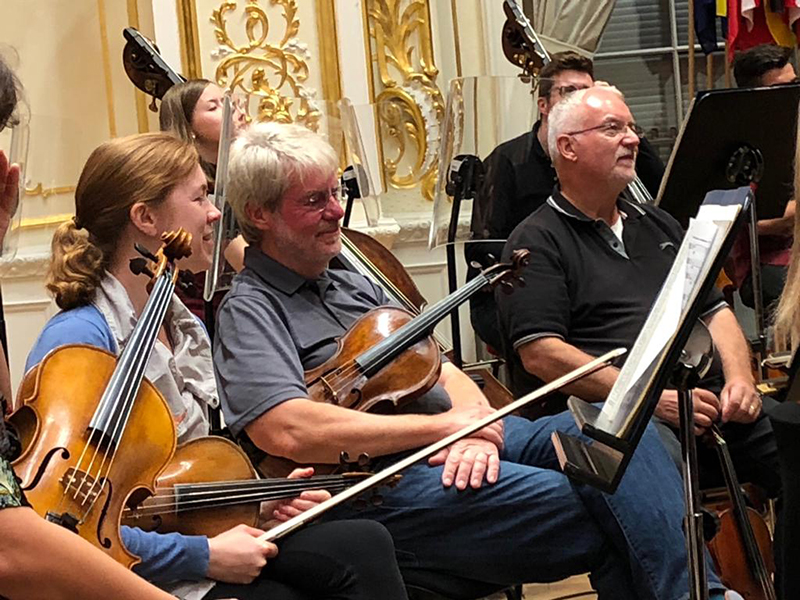 As we set off on our coach journey from Klagenfurt to Bratislava, Andy reflects on his thirty-eight years in the RPO and the route he took in order to join the orchestra. "I spent four glorious years at the Royal Academy of Music - I started there as a violinist and left as a viola player! I was then fortunate to get my first job with the CBSO in 1976. However, I felt myself hankering for the bright lights of London" The craving for London life led Andy to start freelancing with no firm plans ahead. "In those days mates were helpful in getting you work! I was lucky enough to play with the London Mozart Players and the London Philharmonic Orchestra but the work I enjoyed most was with the RPO. I auditioned and was offered a trial…" Andy chuckles as he tells me "There is a vicious rumour that I had the longest probation of anyone ever to get a job in the RPO - it's true, it was extended slightly - for various reasons!" He says sheepishly.
Having become a member in 1981, I wonder how he is feeling about retiring. "Very mixed emotions…it's as though you're a member of an extended family and community when you're in an orchestra; we've been through some fantastic times, I've made amazing friends, past and current, and we've also been through really hard times as an organisation.
The RPO attracts certain personalities that are either perfect from the start or they evolve - there's a real spirit and identity - a generosity of spirit… that's what I shall miss, and of course, making music at the highest level possible - we all know that the RPO at its best can be the best orchestra in the world."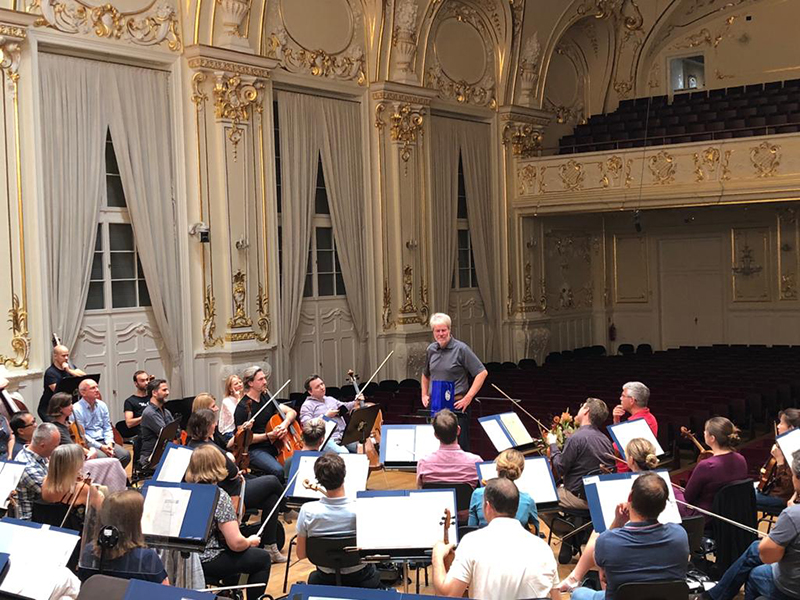 I delve a bit deeper and ask Andy to elaborate on the chequered history of the orchestra. "It's somewhat akin to a rollercoaster - it's gone through some good and some really difficult times. I was co-opted onto the Board in 1997. After about a year I became Vice Chairman and then ultimately Chairman. The RPO was going through an extremely difficult period; some bad managerial decisions had been made - it's undeniably a huge task being the Managing Director of a self-governing orchestra and at the time there was an ever decreasing portion of funding. By 2000, sadly, for various reasons we were in a bad position….Arts Council funding had eroded, unsuccessful appointments were causing issues and we were perceived as the weakest of the self-governing orchestras in London." How did the RPO survive? "We had a huge stroke of luck when the government, through the DCMS, announced a recovery programme - financial aid was offered to ailing arts organisations and eventually, after injections of money into the RPO bank account from the Arts Council were received, the orchestra began to reach a period of recovery" The entire situation was almost insurmountable and the managerial inadequacies in the organisation were highlighted. "We were within a few weeks of shutting down the orchestra and that would have been an absolute calamity!" These exigent circumstances resulted in Andy taking the role of Managing Director for one year. He saw the RPO through troubled times, appointed a new MD and resumed his role as Chairman until 2013.
I ask Andy how he feels about the future of the orchestra? "Seeing the orchestra as it is now, with excellent governance, I feel there are things in place to avoid the financial problems of the past. The RPO has moved on greatly - the general perception is changing and the way forward, both artistically and managerially looks very positive"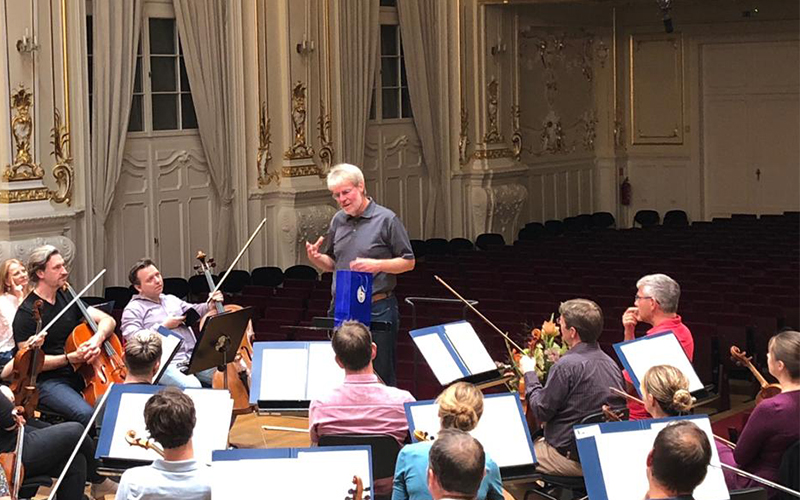 The music business as a whole and the RPO must have changed enormously during Andy's time here. "Yes, absolutely. Visually there is a change of demographic - of course, this is reflective of society. I think the overall power of the Maestro has diminished… the old ways of hiring and firing - they really had a lot of power - this sometimes created uncomfortable situations. The general standard of playing and teaching in conservatoires has risen hugely - we see players of tremendous quality with wonderful techniques joining the team. There was more commercial work available in the past - maybe even a more harmonious existence between orchestras?! I worry that sadly the field of great maestros is not as expansive as it used to be. However, there's a great tradition in the RPO of talented musical directors and the latest appointment, Vasily Petrenko, is no exception. If anything, I'm very jealous of what the future holds!"
There must be attributes and characteristics which are constant in the RPO? "Yes - the camaraderie - a general spirit that we're all in this together whatever happens. The strength of this orchestra is in its equality of treatment. I've always been a great advocate for an equal pay structure - we pay members and extra players equally - this helps sustain enthusiasm and creates a sense of unity" What advice do you have for the younger generation aiming to join the profession? "Try to get as broad a based education as possible - aim for a wide, expansive social understanding; I personally would veer slightly towards a university education to gain as many skill sets as possible"
A huge part of RPO life is touring and I have a feeling Andy has one or two gems to chat about. With his characteristic grin, he recalls trips to Australia, New Zealand, tours of the USA, beachfront hotels in Hawaii and a cruise across the Atlantic on board the QE2!
Eminent musicians with whom he has worked are countless but such names as Yehudi Menuhin and Daniele Gatti are embedded in the RPO's musical history. "I'm going to miss making wonderful music all over the world in some extraordinary concert halls...and of course, the partying is always fun," he says with that unmistakable twinkle in his eye! On that note, I ask him for his top tips for tour survival (it's always handy to compare notes!)
"Eat when you can make sure your mates know where you are and don't miss the bus" Wise words indeed.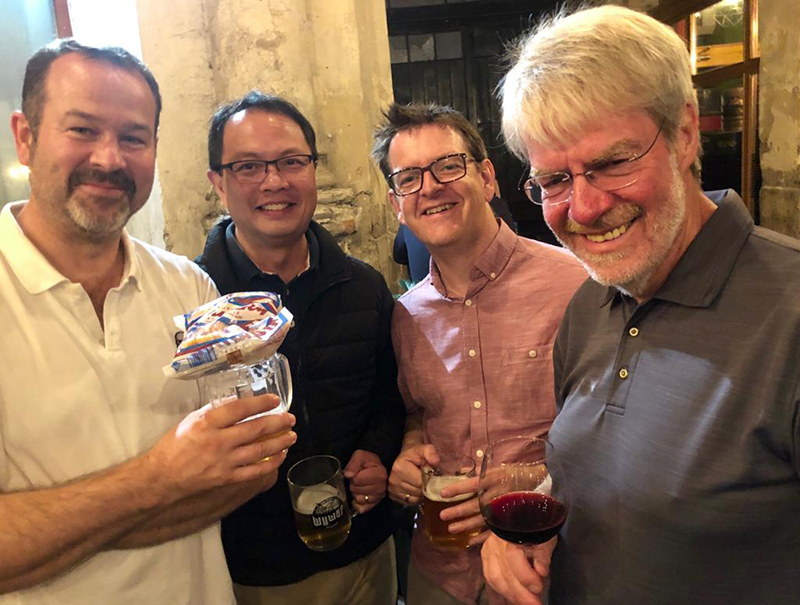 Let's move on to his retirement plans - is he still going to play the viola? "Yes! I've met some people with whom I can play Quartets. I'm enjoying rediscovering repertoire and doing some practising" I've heard a rumour that Andy is going to revisit his violin playing.
"I have thought about taking up the violin again - within local amateur circles" - When we say local, Andy moved to Aberystwyth a few years ago and has become so ensconced in life there that he has even been learning Welsh. "There's a local Welsh ukulele band and I might give it a go one day! ".…I ask him to pop back and give us a performance! Sounds like he'll be too busy. "We're very fortunate to be living in an inclusive community with an arts centre, lots of lectures and societies…." Andy is very passionate about his new home and can't speak highly enough about the welcoming people of Wales (definitely true, although I'm biased!) As well as embracing what Aberystwyth has to offer, Andy looks forward to explorations in their camper van, playing golf and enjoying dinner parties. He tells me, "My wife is the boss of the diary and I think we're going to be very busy!"
What would Andy have done, had he not become a musician? "When I was a kid I wanted to be a merchant seaman but by about the age of thirteen I'd started playing the violin, I was very lucky to have free music education and I joined the local youth orchestra and absolutely loved it. I just wanted to join an orchestra when I left music college - I didn't even consider that it wasn't going to happen!"
Above all else, Andy is a passionate musician and an example to anyone entering the profession. He speaks with true enthusiasm and pride about orchestral playing - an inspiration to us all. In short, the RPO owes a fair amount to Andy Sippings (I think we may owe you a little bit more now after your incredible generosity displayed at your own leaving do!) and it's been a huge pleasure hearing about his thirty-eight-year career. We wish him well for the next chapter and if anyone ever needs a Welsh-speaking ukulele player, you know where to find him!