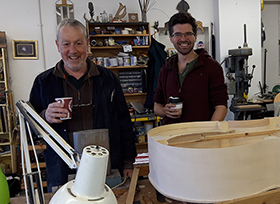 By Ben Wolstenholme (RPO, Double Bass)
On the bank of the river just down from the Thames Barrier, there is a workshop. Inside, on a shelf, there's a tin containing nearly 200 small pieces of ebony with names written on one side. These are the names of double bass players going back generations. It's a miniature history of the double bass in the palm of your hand.
What on earth has this got to do with the Royal Philharmonic Orchestra?