Tribute to Ian Balmain, former Principal Trumpet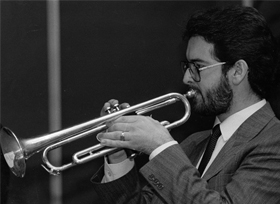 The Royal Philharmonic Orchestra was deeply saddened to learn this week of the death of Ian Balmain, former principal trumpet of the Royal Philharmonic Orchestra from 1997 – 2003.
Prior to joining the RPO, Ian held the principal trumpet position with the Royal Liverpool Philharmonic Orchestra and later went on to assume the principal trumpet position with London's Royal Opera House. Recognised as one of the greatest trumpet players of his generation, it was Ian's warm and unassuming personality combined with his outstanding musicianship that the RPO will remember him by.
Below are personal tributes by four of Ian's colleagues during his time at the RPO. Our thoughts and condolences at this difficult time are with Ian's two children Matthew and Lucy and his wider family.