Player Profile: Eriko Nagayama, First Violin No.7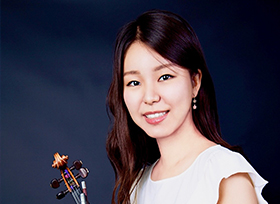 A few months ago Eriko Nagayama joined the Orchestra's First Violin section. You may have seen her at a recent RPO concert. You may have also seen some of Eriko's quirky Instagram posts from our recent USA tour. Here are the career highlights of the Orchestra's award-winning First Violin:
Japanese born Eriko Nagayama is a highly acclaimed violinist, who graduated with distinction in 2018 from her MA in Performance at the Royal Academy of Music under the tutelage of György Pauk. She was also awarded for her DipRAM Final Recital the Marjorie Bunty Lempfert Award, and the Moir Carnegie Prize.