An Interview with Eduardo Portal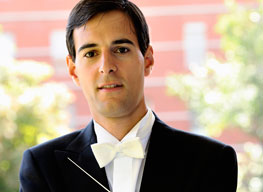 Following his performance with the RPO and Natasha Paremski last month at the Royal Albert Hall (The Great Classics), conductor Eduardo Portal talks to Hannah Nepil about what it takes to be a professional conductor.
Who can resist the whiff of danger? For Eduardo Portal, it's exactly what makes his job so thrilling. 'Conducting is high risk,' he says. 'Only yesterday, when I was conducting the Royal Philharmonic Orchestra, I felt that the concert was entirely in my hands because the players were reacting so accurately to my slightest gesture. So I felt that if I performed well, then the concert would be a success. But if I made a mess of it – well…' He trails off.