Married on Saturday and full driving licence gained on Monday – one thing's for sure, Sonia Sielaff doesn't waste time, but then who would blame her? For two and a half weeks last year this sub-principal clarinettist of the Royal Philharmonic Orchestra was in a medically induced coma, during which she underwent a liver transplant operation that required her to remain in hospital for a further two months, recovering.
"It was around the end of May that I noticed my abdomen was distended," she tells me. "A scan at Lewisham Hospital revealed I had fluid in my abdomen and lungs. It was flushed out but almost immediately I became very ill."
She was taken to King's College Hospital in London to await a liver transplant. Remarkably, within days a successful match was found and the operation was performed.
During the four weeks immediately following her transplant operation, Sonia remained in intensive care. Eventually, as her condition improved, she was moved to a less intensive ward until, two months after being admitted, she was allowed to go home.
"That's when what had happened to me really hit me," says Sonia. "During my coma, I'd suffered muscle wastage of my arms and legs. I wanted to get back to work but, of course, I knew I had a long recovery ahead of me."
Sonia cannot praise the hospital staff who cared for her highly enough.
"Doctors, nurses, cleaning staff… They were incredible; compassionate and caring, and so hard working. Even in the same week they'd be working day and night shifts."
Throughout her hospital stay friends and RPO colleagues were a constant presence. So, too, were members of her family, although they had a little further to travel than most… Sonia is from St Paul, Minnesota, in the US. Her family still live in the States but the moment news of her illness broke, they flew over to be with her.
Another constant presence was her then boyfriend and now husband, Sam Elliott, a tuba player with the BBC Symphony Orchestra. The couple had met when Sonia, who has Scandinavian ancestry, was a member of the Norwegian National Opera and Ballet Orchestra in Oslo and Sam, although based in London, was providing occasional cover for absent players. Over the following five years, and despite the geographical distance that separated them, the couple's relationship blossomed.
Eventually, Sonia gained a trial with the RPO, an orchestra she quickly grew to love for what she describes as its varied repertoire, and the quality of its musicians and performances. In 2016, she was named the orchestra's new E-flat and sub-principal clarinet.
Today, newly married in March and living in South London, Sonia is adjusting to life, post-transplant. She takes upwards of six drugs each day, chief among them anti-rejection drugs and blood thinning tablets. Doctors discovered she was suffering from Budd-Chiari syndrome, an extremely rare condition that contributed to the blood clot in her liver, triggering its failure. They also identified a gene disorder related to her bone marrow called JAK2 that causes her blood to thicken. She's taking a course of mild chemotherapy-related drugs to help control her platelet count.
However, despite these diagnoses and her drugs regime, Sonia knows she's one of the fortunate ones.
"I was extremely lucky to get a bed in the Liver Intensive Treatment Unit at Kings, and then to be placed on the super urgent liver transplant list. Before I became ill I had already signed up as an organ donor but I'm pleased that now the system has changed so that people have to opt out of the scheme."
Her positive outlook extends to a new-found appreciation of life and all of its possibilities.
"I now take nothing for granted. Also, before I became ill I might get too focused on mundane things but now I have a broader outlook. I take things a day at a time, being grateful for what I have."
As her strength began to return, in February Sonia began playing part-time with the RPO. Health permitting, she hopes to return to the orchestra full-time in the next few months.
Working with the RPO Sickness & Benevolent Fund (a separate charity run by RPO members for RPO members past & present, which initiates & organises a fund raising event every year), and as part of his popular Christmas Celebration concerts with the RPO, composer and conductor John Rutter nominates a charity to receive audience donations. For last December's concerts, he chose King's College Hospital charity. During the concert intervals, members of the RPO moved among the audience with buckets, collecting small change. Over the course of the three concerts, audiences donated an amazing £10,545.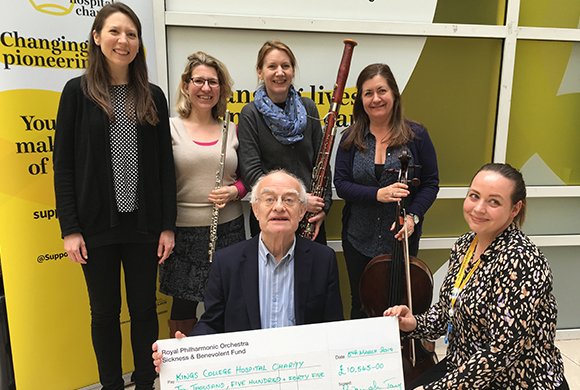 "I managed to get to one of the concerts and it was incredibly moving to see the audience give so generously," says Sonia. "In March, myself, John Rutter and other members of the orchestra visited King's to hand over the cheque, to be spent in whatever way the hospital charity sees fit."
As my time with Sonia draws to a close, she mentions a poem her grandfather loved and which inspires her. It's called Attitude and is by Charles Swindoll. One of its lines reads, 'The only thing we can do is play the one string we have, and that is our attitude. I am convinced that life is 10% what happens to me and 90% how I react to it. And so it is with you.'
Clearly, for Sonia they're lines forged by experience but practised each day.
Interview by John Evans, journalist and former editor of Classic FM magazine.