Are you thinking about attending an RPO concert at The Hexagon for the first time, but you're not quite sure what to expect? There are a lot of misconceptions about orchestral music that can be off-putting, so we have pulled together a quick, myth-busting guide to put your mind at ease. If there is anything else you'd like to know, please don't hesitate to call the friendly box office at The Hexagon, 0118 960 6060

Myth 1 | The concerts are long.

Nearly all orchestral concerts have an interval in the middle, which gives you the chance to stretch your legs, grab a drink and talk to your friends about what images came to your mind during the performance.

Myth 2 | There are rules about when I'm supposed to clap.
Clap whenever you feel moved. There are over eighty of the finest musicians playing their hearts out just for you, and your applause means everything to them. When in doubt, wait for others around you to clap and join in!

Myth 3 | I'll have to wear an evening gown or tuxedo to get in.
It's true you may see some people in evening wear, but you'll also see jeans and trainers and everything in between! We invite you to dress comfortably, because, after all, we're all here to enjoy a great music performance.

Myth 4 | I'll need a degree in music to appreciate it
You don't need to be a gourmet chef to enjoy a fine meal! You don't need to know the music on the program to have a meaningful experience. If you prefer a little more guidance, we encourage you to read through the concert programme before the concert and watch the conductor for interactions.

Myth 5 | Orchestral music is just for rich, old people.
Great music touches all of us, from all ages and backgrounds. One of the best things about orchestral music is that there is a piece for every occasion and every emotion from romantic tender pieces to loud, bombastic works! The Royal Philharmonic Orchestra is a charity which aims to serve all segments of the population, particularly through our community and education work and through our partnerships with Berkshire Maestros and the University of Reading.

Myth 6 | Orchestral music is boring
Orchestral music is a broad term that includes bombastic symphonies from the nineteenth century to the Imperial March from Star Wars®, and everything in-between. Open yourself up to the music. Let it stir memories and emotions. Listen out for the rhythms, watch the musicians and the conductor, and see how they interact with each other and guide you on a musical journey. You'll probably recognise a lot of the pieces from TV adverts and films too!

Myth 7 | The tickets are expensive.
If you've never been to a Royal Philharmonic Orchestra concert at The Hexagon before, you can experience the thrill of orchestral music for the introductory price of just £12. The 'Test Drive' ticket is about the same cost as a trip to the cinema, and just as fun!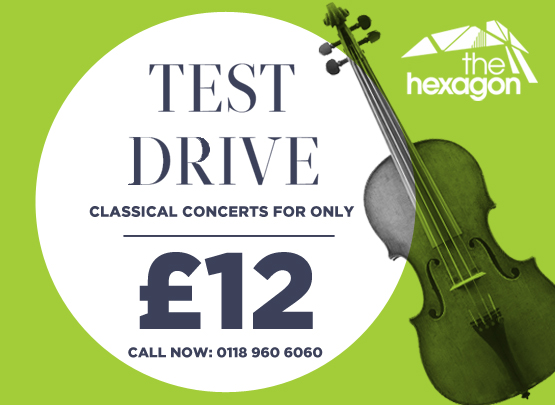 Check out The Hexagon website for a complete listing of RPO concerts in Reading